Welcome to Local 3954's web page. Local 3954 is a small group of career fire fighters consisting of six members that protect the Town of Tolland Connecticut. The Town of Tolland, first settled before 1715, covers an area of forty-one square miles and is situated twenty miles northeast of Hartford.

The Tolland Fire Department is a combination department. We have Career (paid) Fire Fighters working Monday through Friday covering the hours of 7:00 AM to 4:30 PM and a group of dedicated volunteers covering evenings, weekends and certain holidays.
AS OF NOVEMBER 26, 2012 THE
TOLLAND FIRE DEPARTMENT,BOTH CAREER AND VOLUNTEER HAVE RESPONDED TO 1385 EMERGENCY CALLS!!!
On Monday night, May 17, the members of the TFD had a special visit from a family they assisted earlier this year. During their training session, Cynthia Mello visited with her infant son Jack and daughter Taylor. On Jan. 27, during a heavy snowfall, Cynthia was taken to St. Francis Hospital after her water broke. Later that day, Jack was born.

In the photo are Fire Fighters who assisted- Dennis Carlson, Steve Pasek, Mark Morrison and Joe Duval along with Cynthia, Jack and daughter Taylor.

Fire Chief Littell was in charge on scene, but unavailable for the photo.
New Residential Fire Study Shows Effects of Crew Size on Fire Fighting Operations
April 28, 2010 -- A landmark study released by the National Institute of Standards and Technology (NIST) shows that the size of fire fighting crews has a substantial effect on the fire service's ability to protect lives and property in residential fires. Click here to read the news release.

Watch a recent interview with Dr. Lori Moore-Merrell, Assistant to the President, discussing this important study. Moore was interviewed after giving a presentation at the IAFC's Fire-Rescue Med Conference.

Conducted by a broad coalition in the scientific, fire fighting and public safety communities, the study results found that four-person fire fighting crews were able to complete 22 essential fire fighting and rescue tasks in a typical residential structure 30 percent faster than two-person crews and 25 percent faster than three-person crews.

The report is the first to quantify the effects of crew sizes and arrival times on the fire service's lifesaving and fire fighting operations.

This and other scientific data in the report will help educate public officials, fire chiefs and other decision-makers on the importance of adequate staffing and deployment with respect to fire fighter and public safety.

Study investigators from NIST and the IAFF announced the results of the study at a press conference at the Hilton Washington in Washington, DC, before the start of the annual Congressional Fire Services Institute meeting of top fire safety officials from the across the nation.

Click here for the full report.

The study is funded by the U.S. Department of Homeland Security's (DHS) Federal Emergency Management Agency's (FEMA) Assistance to Firefighters grant program.

Read General President Harold Schaitberger's blog, "Fire Fighter Staffing and Deployment Study Released"

For more information, contact Lori Moore-Merrell at lmoore@iaff.org or (202) 824-1594.



TOLLAND FIRE DEPARTMENT
MEMORIAL CEREMONY
1-18-2010
On January 18, 2010 local 3954 participated in the dedication

ceremony of the new Tolland Fire Dept line of duty memorial on the same day of the 20th year anniversary of line of duty death of Lt Gary M, Passaro on January 18, 1990. Also honored was Robert James Cooke

FF Duval who knew Gary as a friend and fellow firefighter conceived the idea to honor Gary on his 20 year anniversary. FF Duval and Wellings served on the Tolland Fire Dept Memorial committee and in less then six months of hard work from many people, everything was able to be finished for this special day.

Many thanks to all the people that made this possible
FF WELLINGS WITH

TOLLAND FIRE DEPT

HONOR GUARD

FF DUVAL PLACING WREATH

AT PLAQUE OF

LT GARY M, PASSARO

NEW LONDON FIREFIGHTERS

PIPE & DRUMS

PLAQUE HONORING

LT GARY M, PASSARO

FF DUVAL PRESENTING

A GIFT TO EARTHWORKS

JEFF HUTTON & ROB SYMONDS

FF WELLINGS SALUTING

THE RAISING OF THE FLAGS

FF WELLINGS TOLLING

THE BELL

GRANITE MONUMENT MARKING

THE MEMORIAL SITE

PLAQUE HONORING

ROBERT JAMES COOKE
Click for full story and more photo's
January 16, 2010
Mansfield
Structure Fire
Tolland responded to the Town of Mansfield for a structure fire. Tank 440 With FF Carlson and Duval responded and assisted with shuttling water to the scene. Mansfield requested any manpower to scene. FF Duval helped man
a 2-1/2" hose line and preformed overhaul from the outside.
T440 with FF Carlson running pump

Crews working to contain fire
North Coventry
Structure Fire
Tolland was dispatched to the town of Coventry for a vehicle fire with extension to garage. FF Morrison and Pasek respond with Tank 140 to supply water to the fire ground. FF Pasek assisted on scene with checking for extension and overhaul
FF Pasek assisting on scene
South Coventry
Structure Fire
Tolland was dispatched to the town of Coventry for a structure fire house fully involved. Both Tolland's tankers were requested. FF Duval with T140 and FF Morrison with T440 responded and help shuttle water to supply the fire ground
First units on scene found heavy fire
North Coventry
Structure Fire
Tolland was dispatched to the town Coventry for a structure fire. Tolland responded with 2 Tankers and 2 Engine Tanks. T140 with FF Morrison and Pasek, T440 with FF Wellings, Et240 with FF Sezmreylo and Duval, Once on scene Tolland Fireighters assisted in many different tasks from supplying water to the fire ground, interior fire attack and overhaul.
FF Pasek setting up

to supply water

FF Wellings on the ladder with

other Tolland Firefighters

FF Duval takes a break after

assisting in interior attack

FF Morrison assists Tolland

Lt Mullen with a air bottle change
December 12, 2009
Kendall Mt Rd
MVA W/Entrapment & Lifestar
Tolland responded to a reported motor vehicle accident on Kendall Mountain Rd. First unit on scene reported an entrapped unresponsive patient. Pt was extricated packaged and transport to Life Star. FF Morrison and Duval were on scene and assisted with extrication
November 06, 2009

I-84

MVA W/Injuries
Tolland was dispatched for a motor vehicle accident on I-84 west of exit 69. FD units on the scene found car in the woods. There were multiple injuries. Both of Tolland's ambulances and one from Willington #1 transported three patients. Also 2 ALS units were requested for two of the patients.
IS THIS WHAT THEY MEANT BY EMERGENCY STOPPING
South River Rd
Chimney Fire
Tolland responded to a chimney fire. Units on scene reported a slight smoke condition in the dwelling. Firefighters used chains to clear the blockage in the chimney. Smoke was cleared from the house and FD cleared
FF Wellings getting access to
the chimney
October 16, 2009
Tolland Stage Rd
MVA W/Injury
While Tolland units were still operating at the multiple vehicle accidents on I-84 with one being serious, they were dispatched to another vehicle accident on Tolland Stage Rd (Rt 74) reported Vvehicle down embankment. Units standing by at fire station and from the highway responded. FD unit on scene found a one car that rolled down embankment in front of residence. Patient was still in vehicle and minor extrication and stabilization was preformed. ALS was requested due to patient condition. Patient was treated and packaged and transported to the hospital.
Vehicle found down embankment

FF Duval Helps pickup equipment

FF Duval assists in carrying patient
October 16, 2009
I-84 westbound
MVA W/Serious Injuries
Tolland responded to a reported motor vehicle accident on I-84 in area of
Exit 68. FD unit on scene found vehicle on its roof with occupants ejected. Three occupants were found with serious injuries. Both Life Stars and extra ALS units were requested to the scene. All occupants were treated and packaged and then transported to hospital by both helicopters. It was a busy night on I-84 with multiple accidents with injuries. IAFF 3954 personnel were on the scene and assisted with patient care. Unfortunately one patient died a short time after arriving at the hospital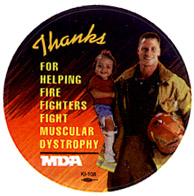 The Tolland Fire Fighters would like to thank all those who graciously donated to this years 2-day Muscular Dystrophy Association's, "Fill The Boot" drive. Total donations were over our $10,000.00 goal set for this year.
Again, THANK YOU, from Local 3954.